Connaught Opera was formed in 2003. We are a Registered Charity No. 1131004. Our management committee comprises Maria Arakie (Chair), Glenn Wilson (Treasurer), Alan Steinfeld QC (Secretary), Shabir Dawood (Trustee) and Dr. William Acker (Trustee).
Most of our concerts are performed by two singers, usually Maria Arakie (soprano) and Glenn Wilson (baritone), although other singers are occasionally added to order. They are accompanied by a top rate pianist, such as Nicholas Bosworth, Gavin Mole and Carol Wells, according to availability. All are fully trained and experienced performers. 
We seek to provide high quality entertainment for older people in Greater London. The venues we visit include homes, hospitals, hospices, day care centres, sheltered housing and community-based clubs for elders. We have also had the good fortune to be hosted by some of the most glamorous and historical Heritage sites in England.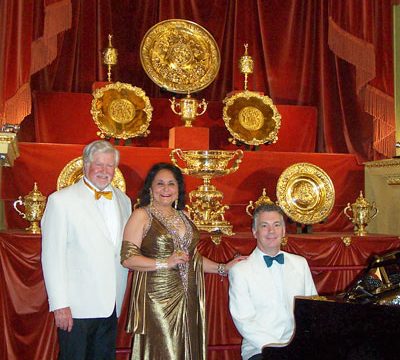 Our Ethos
The charity sector has been criticised for the high remuneration given to some of its workers. Our ethos has always been to ensure that all our income is restricted to fulfilling the grants we have been awarded. Although performers are paid a small, set fee for their services, we have no salaried employees and no expenses are paid to our Trustees.
The Charity Commission has agreed that Connaught Executives/Trustees may be paid reasonable performance fees provided they are in a minority of the Committee that sets the fee. Two are indeed regular performers. However, neither is irreplaceable; if one is unavailable or indisposed a talented substitute can be drafted in. This has occasionally happened in the past, with the result that we have never in our ten year history had to cancel a planned concert.
Let us introduce ourselves...
In Memorium – Billy Dove OBE
1939 – 2021
During a long and illustrious career, as a teacher, JP and Councillor for the City of London, Billy will be most remembered for his enormous contribution to the field of charity work, raising enormous sums for those lucky enough to secure his unstinting services. Billy loved the pageantry of the City of London. An enthusiastic Royalist he was so proud of meeting most of the Royals during his glittering career and being awarded first the MBE and then an OBE.
He occupied many key executive roles during his career, including Chair of City Bridge Trust, Chief Commoner of the City of London, and served on the boards of some 30 Charities. We were proud and flattered when he recently decided that work was so overwhelming him that he resigned from all of them – except ours.
Connaught Opera held a special place in his heart and his life. Following one of our AGM's he wrote: "What a joy and a relief to have some good news. Bless you all for the excellent work you do to keep the good ship Connaught afloat. I am proud to be a part of this wonderful organisation. Love to all, Billy"
He celebrated his humble beginnings in Yorkshire and we loved to tease him gently. A champion of the disabled and underprivileged, he worked tirelessly to raise funds to keep them afloat. A true friend, from the first day we met, Billy was always there to steer and support us.
We will miss you sorely dearest friend Billy – may you continue to look down on us affectionately.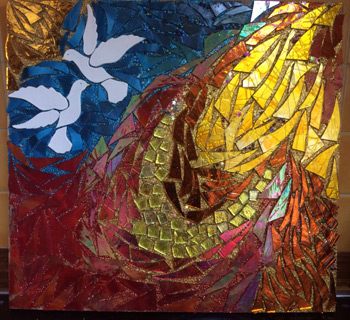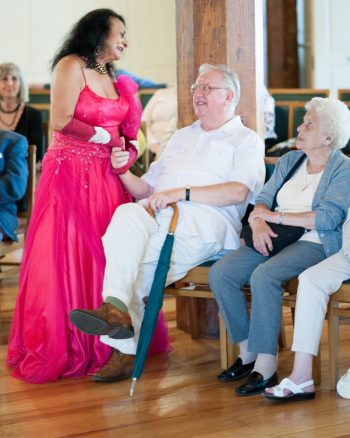 He shed a tear when we sang "When I Grow too Old to Dream" at the Tower of London – it being his Mother's favourite, which she always sang to him.
Have a look at what some of the venues have said about us, and our performances. Simply click on the name of the venue to the right to switch between the comments that we are flattered to have received.
---
Seen below: Cartoons drawn by Geoffrey Shovelton – a tenor we collaborated with on one of our tours – captures the essence of joy and warm spirit we aim to inspire with every performance.
A bit about our funders...
Our grateful thanks to the Charitable Trusts, Community Funds, Lottery Funders, Arts Trusts and London Borough Councils who have contributed so generously to Connaught Opera in order that we might continue our work, promoting community cohesion within the network of care for older people in Greater London Boroughs and the South East of England.
These benefactors are listed below. We also wish to thank the day centres, nursing homes, hospice and hospitals who paid fees directly to Connaught Opera for additional bookings.
Our special thanks to the Heritage sites throughout England, who have generously hosted concerts in their magnificent settings.
Age Concern and Help The Aged
Age Concern (Camden, Southwark, Bexley)
AGE UK
Alnwick Lions
Ampersand Caterers
Arts About Wandsworth
Arts Council England (GFTA, London Arts and North East)
Awards For All
Barchester's Charitable Foundation
Bedfont Day Centre, Hounslow
Bernard Sunley Charitable Foundation
Blenheim Day Centre (CWNL Mental Health NHS Trust)
Burnham Lodge Nursing Home
Camden Council – Housing & Adult Social Care: (Ingestre Road Residential Home; Wellesley Road Residential Home; Branch Hill Residential Home; St. Margaret's Elderly Persons Home)
Carebase Limited
Central & Cecil Housing Trust
Chapman Charitable Trust
Chelsea & Westminster Hospital
City Of Westminster (Arts)
City of Westminster (My Westminster)
Citywest Homes
Community Foundation (Tyne & Wear and Northumberland)
Concertina Charitable Trust
Cloudesley
Cripplegate Foundation (Islington Community Chest)
Culture Seeds – Mayor of London (Groundwork London)
EC1 NDC – Community Chest & Festival Funds
Edward Harvist Trust (London Borough of Brent)
Elmbridge Borough Council
Essex Community Foundation (Alston Family Charitable Trust)
Foundation Derbyshire – The Ashby Family Fund
Hallmark Healthcare
Hampshire County Council
Hampstead Wells & Campden Trust
Hampton Court Palace, London Borough of Richmond (Initiatives Fund) & Royal Borough of Kingston-Upon-Thames (Arts Grants Fund) – Joint Initiative
Hampton Fuel Allotment Charity
Heart of England Community Foundation
Hertfordshire Community Foundation
Heron International (Gerald Ronson)
Hertfordshire County Council (Adult Care Services)
Kilfrost, Haltwhistle
Knebworth House – Hertfordshire County Council (Adult Services) & Quantum Care – Joint Initiative
Lauder and Rees
Link Age Plus
Livery Companies – The Worshipful Companies of:

Carmen
Drapers'
Fishmongers
Goldsmiths'
Haberdashers
Leathersellers'
Mercers'
Merchant Taylors'
Saddlers
Stationers and Newspaper Makers
Skinners
Pattenmakers
London Borough of Barking & Dagenham (Molten Festival)
London Borough of Barnet
London Borough of Camden (Culture Small Arts Grant)
London Borough of Ealing (Arts & Culture)
London Borough of Enfield
London Borough of Hackney (Discover Hackney)
London Borough of Haringey
London Borough of Harrow
London Borough of Havering
London Borough of Hillingdon
London Borough of Hounslow
London Borough of Islington (Social Services) (Arts & Culture)
London Borough of Lewisham
London Borough of Merton (Arts Development Fund)
London Borough of Newham (Go For It Grants)
London Borough of Redbridge (Arts Development)
London Borough of Richmond (Civic Pride Fund)
London Borough of Richmond-Upon-Thames (Arts Service, Orleans House & Gallery)
London Borough of Sutton (Imagine Festival)
London Borough of Wandsworth
London Catalyst
London Councils
Nonsuch Rotary (Sutton)
Northern Rock Foundation
Norton House, Victoria (Anchor)
Olympic Lottery Fund (Transformers)
Onenergy (Groundwork Islington)
Paddington Rotary
Quantum Care
Richmond Parish Lands Charity
Rotary Club of Alnwick
Rowan Bentall Charitable Trust
Royal Greenwich, Culture Tourism & Heritage
Royal Borough of Kingston Upon Thames (Neighbourhood Fund)
Royal Borough of Kensington & Chelsea Arts Council
RBKC Corporate Services Small Grants Fund
Reading Borough Council
RPLC Richmond Parish Lands Charity
Sadlers Wells Theatre
Servite Houses
Sir James Knott Trust
Sundial Link Age Centre, Peabody Trust
Sutton Community Fund
The Barnes Workhouse Fund
The Bingham Trust
The Bruce Wake Charity
The Civic Pride Fund (LB Richmond upon Thames)
The City Bridge Trust
The Close Care Home, Abingdon
The Concertina Charitable Trust
The Foyle Foundation
The Italian Consulate General
The Maynard Hotel, Derbyshire
The National Trust
The Royal Star & Garter Home, Richmond-Upon-Thames
The 29th May 1961 Charity
The Tower Hill Trust
The Wixamtree Trust
Tower Hamlets Project (Jointly Funded By London Catalyst, Sundial Link Age Plus, St. Katharine & Shadwell Trust)
Trust For London
Villa Scalabrini, Herts
Westminster Arts
Westminster City Council (Sing London)