Connaught Opera was formed in 2003. We are a Registered Charity No. 1131004. Our management committee comprises Maria Arakie (Chair), Glenn Wilson (Treasurer), Alan Steinfeld KC (Secretary), Shabir Dawood (Trustee) and Dr. William Acker (Trustee).
Most of our concerts are performed by two singers, usually Maria Arakie (soprano) and Glenn Wilson (baritone), although other singers are occasionally added to order. They are accompanied by a top rate pianist, such as Nicholas Bosworth, Gavin Mole and Carol Wells, according to availability. All are fully trained and experienced performers.
We seek to provide high quality entertainment for older people in Greater London. The venues we visit include homes, hospitals, hospices, day care centres, sheltered housing and community-based clubs for elders. We have also had the good fortune to be hosted by some of the most glamorous and historical Heritage sites in England.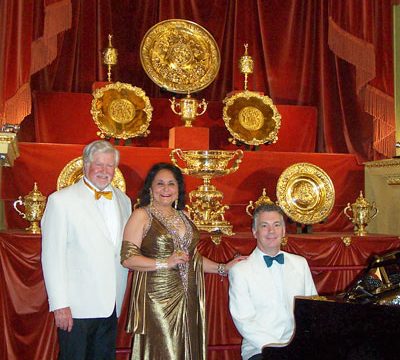 Our Ethos
The charity sector has been criticised for the high remuneration given to some of its workers. Our ethos has always been to ensure that all our income is restricted to fulfilling the grants we have been awarded. Although performers are paid a small, set fee for their services, we have no salaried employees and no expenses are paid to our Trustees. The Charity Commission has agreed that Connaught Executives/Trustees may be paid reasonable performance fees provided they are in a minority of the Committee that sets the fee. Two are indeed regular performers. However, neither is irreplaceable; if one is unavailable or indisposed a talented substitute can be drafted in. This has occasionally happened in the past, with the result that we have never in our ten year history had to cancel a planned concert.
Let us introduce ourselves...
Connaught Opera in the news…
A musical tribute to the Queen called 'Songs for Elizabeth' took place this week for older community members in Richmond.
Age UK Richmond clients were treated to a special performance by Maria and The Connaught Opera at Orleans House Gallery in Twickenham on 5 October.
The event took place in the Baroque Octagon Room, established in 1720.
The palatial room boasts paintings of classic Roman ruins along with portraits… read more
IT'S been more than two years since they've been able to pay a visit, so opera singers returning to a community centre were delighted to put on a show for older residents.
Members of the Connaught Opera visited the St Luke's Community Centre in Old Street on Tuesday.
Putting a tap in the toes of the cake-eating crowd as they sang a selection of hits from films, musicals (including The Wizard of Oz) and popular operas, Glenn Wilson and Maria Arakie regaled their audience with stories behind the music as well as going through a series … read more